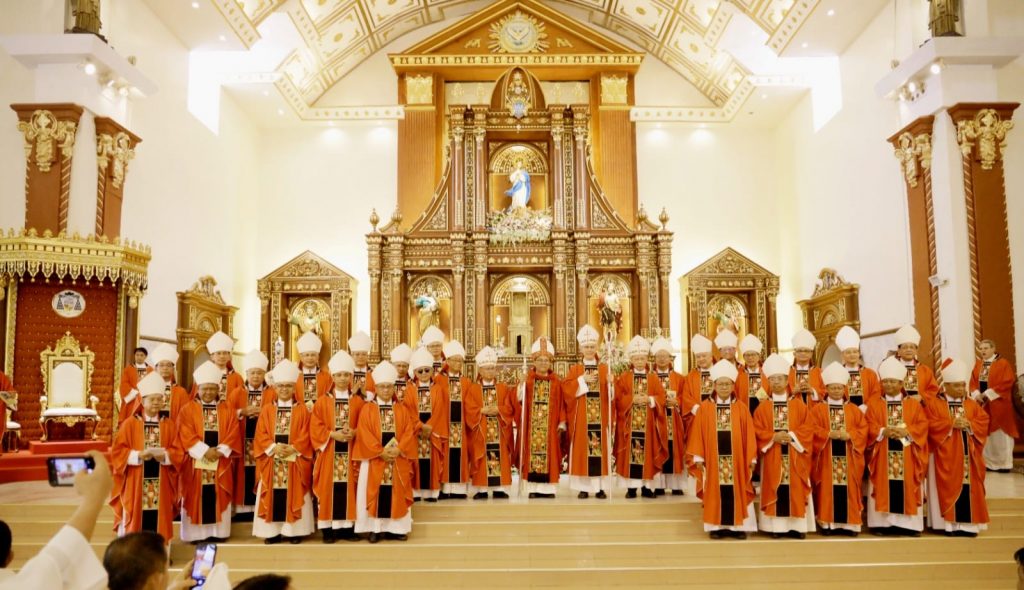 ---
Ang aton madugay nga ginhulat kag ginpangamuyuan sa Mahal nga Diyos nag-abot na. Sa isa ka sagrado nga adlaw, sa Immaculate Conception Metropolitan Cathedral kaupod ang mga Bishops sa nagkatuhay nga Archdioceses/Dioceses sa bilog nga Pilipinas, mga kaparian kag tumuluo sa Capiz, ginsaksihan naton ang ginhiwat nga Canonical Installation sa aton bag-o kag ika-4 nga Arsobispo sa Capiz Most Rev. Victor B. Bendico., D.D.
Ang installation ni Archbishop Vic-Vic ginpangunahan ni Apostolic Nuncio His Excellency Most Rev. Charles John Brown kag gin-updan sang aton man pinalangga nga si His Emminence Jose Cardinal Advincula D.D, kag Cardinal Orlando Beltran Quevedo Archbishop Emeritus of Cotabato. Nagtambong man diri sa Mayor Benjamin Magalong sang Baguio kag ila mga kaupdanan sa Archdiocese.
Kita nagakalipay kag nagapasalamat sa pagsug-alaw sa aton Arsobispo nga ginpangamuyuan ta gid kag ginhatag sa aton makaligad ang 20 ka bulan. Ihatag ta ang bug-os nga suporta sa iya misyon sa pagpabakud pa gid sang aton pagtuo.
"Sumugod subong magaupdanay kita sa isa ka pagpanglakaton.Magpanglakaton kita nga may mahamungayaon nga pagsalig sa Ginoo. We will walk together. We will strive that no one will be left behind, no one will feel alone and no one will be forgetten in our communities. I will be your shepherd after the heart of Jesus. 𝗜 𝗪𝗜𝗟𝗟 𝗡𝗘𝗩𝗘𝗥 𝗙𝗔𝗜𝗟 𝗧𝗢 𝗧𝗥𝗨𝗦𝗧 𝗛𝗜𝗠 𝗘𝗩𝗘𝗥𝗬𝗗𝗔𝗬," newly Installed Archbishop of Capiz Most Rev. Victor B. Bendico., D.D.
"Msgr. Vic, Welcome back and Welcome home. 𝗙𝗿𝗼𝗺 𝗔𝘂𝗱𝗶𝗮𝗺 𝘁𝗼 𝗖𝗼𝗻𝗳𝗶𝗱𝗮𝗺. 𝗙𝗿𝗼𝗺 𝗜 𝘄𝗶𝗹𝗹 𝗹𝗶𝘀𝘁𝗲𝗻 𝘁𝗼 𝗜 𝘄𝗶𝗹𝗹 𝘁𝗿𝘂𝘀𝘁. Msgr. Vic comes to Capiz with an invitation to trust. To trust him as a shepherd and to trust everyone. Magsalig gid sa Ginoo sa gihapon," message of His Emminence Jose Cardinal Advincula D.D.
---