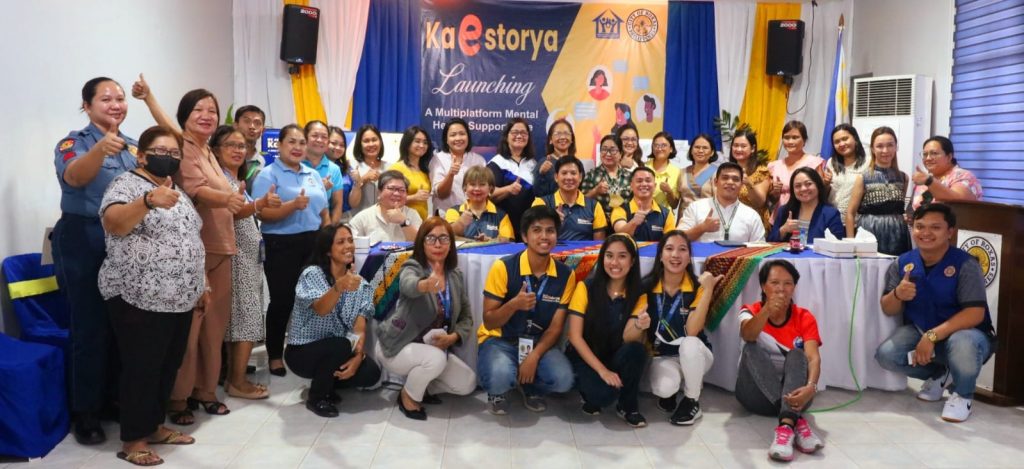 ---
Subong, isa ka panibag-o nga milestone ang aton naabot sa Roxas City sa paglunsar sang KaEstorya Multiplatform Mental Health Support Line.
Sa nakaligad nga tinuig labi na sa tion sang pandemya, talalupangdon ang pagtaas sang numero sang may mental health issues indi lang sa Roxas City kundi sa bilog nga Capiz. Kalabanan sa ila mga pamatan-on nga nagaedad 15 tubtob 29 anyos.
Luyag naton masolusyunan ini nga problema pinaagi sa KaEstorya nga isa ka emergency helpline nga magasabat sang report, panawag, text pati chat sang mga nagakinahanglan sang bulig sa ila mental health problems kag sa mga biktima sang pagpang-abuso. Magaserbi man ini nga suicide prevention helpline nga handa maka-Estorya sang mga indibidwal nga may problema kag wala sang masugiran.
Ang KaEstorya isa man ka referral network sa iban pa nga government and non-government agencies nga magahatag pagtamod sa iban pa nga kinahanglan nga serbisyo sang mga nagadangup sa ila.
Ini nga programa natigayon sa kolaborasyon kag pagbinuligay sang Roxas City Government, Sangguniang Panlungsod pinaagi kay anay City Councilor Trina Ignacio sa pagdihon sang ordinansa nga nag-institutionalize sang KaEstorya Multiplatform, CSWD, City Health, Kaestorya Program Champion Ms. Maria Teresa Muñoz, Academe, PNP, BFP kag pribado nga sektor kapareho sang JCI Makawiwili, Media kag iban pa naton nga kaupdanan sa barangay, BHWs, Child Development Workers nga mangin katuwang ta sa mental health support line kag suicide prevention.
Bukas ang aton linya sa tanan nga nagakinahanglan sang KaEstorya ta Roxas City ka man o sa iban nga banwa sa Capiz. Ang aton Mental Health Practitioners kag mga eksperto handa sa pagpakig-Estorya sa inyo face to face, panawag, text ukon chat. Ginasiguro namon nga ang inyo ma-Estoryahan magapabilin nga CONFIDENTIAL.
Kon kinahanglan mo ang KaEstorya ndi magduha-duha nga makig-angut sa masunod:
𝗥𝗼𝘅𝗮𝘀 𝗖𝗶𝘁𝘆 𝗞𝗮-𝗘𝘀𝘁𝗼𝗿𝘆𝗮 𝗙𝗕 𝗣𝗮𝗴𝗲 𝗸𝗮𝗴 𝗛𝗢𝗧𝗟𝗜𝗡𝗘 𝗡𝗨𝗠𝗕𝗘𝗥𝗦:
𝗚𝗹𝗼𝗯𝗲: 𝟬𝟵𝟲𝟲-𝟰𝟵𝟯-𝟭𝟭𝟳𝟴
𝗦𝗺𝗮𝗿𝘁: 𝟬𝟵𝟴𝟱-𝟯𝟴𝟰-𝟯𝟲𝟳𝟴
---